WAR!
Sites with current coverage: NJ.com NewsFlash breaking AP headlines … CNN … MSNBC … Afghan Network News … ABC News … CBS News … Guardian … Washington Post … NY Times … Times of India … Drudge … Ananova … Independent … PakNews … Debka … BBC … Focus, Spiegel, Bild (auf Deutsch) … Le Monde, Liberation (en Francais) … Nick Denton's Blogorama (note the appropriate headline: the size of a tabloid with the irony of the Web) … Islam Online … Jerusalem Post … Tehran Times …
– Guliani on terrorism: "We should get used to dealing with it."
– Stratfor situation reports.
– Iran reacts.
– Times of India on Taliban honcho Mulla Omar: "The man leading his country in a desperate and high-stakes game of chess against the United States suffers fits and brain seizures and often babbles like a child, according to the doctor who treats Mullah Mohammed Omar, the one-eyed Taliban leader. Omarís mental instability is the real reason he is so reclusive…"
– Green was the color of old radar screens. Green was the color of the first computer screens. Green was the color of sunglasses, once upon a time. My better-educated friend Nick Denton points out that green is the color of Islam. And now green is the color of the new war: blobs over Kabul: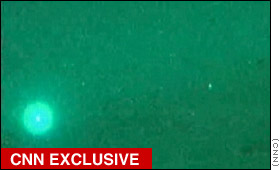 And the winner is… oh, nevermind… Emmys postponed before but now canceled.