Brit military chief warns of a four-year war: ìIím not suggesting this war will go on for 50 years but weíre fighting a concept, not a state . . . and weíre having to rewrite the rulebook (to deal with it). The al-Qaeda organisation is not tangible. Youíre fighting against this thing called terrorism.î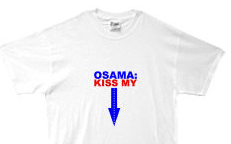 Thanks to Matt Welch for a great plug for the Warlog Store (read about it under the tote bag below and buy the Former Pacifist or Rudy Kicks… or Osama Kiss My… T-shirts)…. And I'm glad that Matt and his cohort Ken Layne are back and blogging.
If you want a barometer of what America is really thinking — if not saying — listen to Howard Stern. Today, Howard wondered what Bush is up to trying to wage the politically correct war, telling our kids to send dollars for kids in Afghanistan and now to find Muslim pen pals. Howard says that's not how we waged WWII; the countries we bombed were our enemies. Right. Now it's true that in this war, Bush has to work hard to distinguish the enemy — terrorists — from the civilians around them and their fellow Muslims, since we are relying on them as at least temporary allies. Still, what Howard's really saying is that we want decisiveness. Instead, we're starting to hear that we may not ever get Osama and that the war is already tougher than we figured. On the homefront, it's worse: We witnessed a fumbled, mumbled, and bumbled response to the worsening anthrax attacks; we got vague reassurances when we should have been getting swift action and information. It also does not inspire confidence that the government is asking Hollywood and now us for ideas to fight terrorism (apply here). Our support for the war and Bush is not faltering. We just want something more to support.
– Anthrax survivor: "I was near death."
– Fun Florida.
– Bin Laden link to Argentine terror attacks.