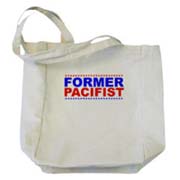 The post-9/11 T-shirts I'm seeing on the streets of New York are mostly mawkish, hawkish, tacky, or even offensive. We need to improve the level of T-shirt discourse. And here is my humble contribution: The Warlog Store (all profits to charity). So far, three products:
– The Former Pacifist line (inspired by my confession, below). For you NPR/PBS fans who may not be caught dead or alive in T-shirts, we offer the Former Pacifist tote bag (above). Buy here.
– The Rudy For… t-shirt. On the front, suggestions for Rudy's next job: Attorney General (my crusade), FBI Director, Senator, Governor, any of the above. On the back, "Rudy Kicks…" with an arrow pointing you-know-where. Buy here.
– And to show off my new hawkish tendancies: A T-shirt that says "Osama: Kiss My…" with an arrow pointing down; the same message on front and back. Buy here.
Suggestions welcome.
Through others' eyes: In the current issue of der Spiegel, there's one story about the love-hate relationship Germans have with America right now — with many against supporting our war. And only a few pages away there's a story (neither of them online) remembering the day exactly 40 years ago when our tanks confronted Soviet tanks across the Berlin Wall, risking nuclear war, a historian now believes, for the sake of German freedom. Ungrateful? Disloyal? At the same time, we're hearing more about the planning for terror that occurred in Germany. Spiegel has a story about Atta plotting in Hamburg. And there's an amazing story (if I'm translating correctly) about the double life of a soccer star turned terrorist. There are terrorists in their midst, too.
– The future of mail: Wall Street Journal asks whether this is the end of snail mail. I was telling friends the business to be in is sanitizing and opening mail for important or self-important people; too late, for the NY Times reports that Hazmail is offering just that. Will we be required to seal our mail in plastic bags? Will our mail be delayed while it's nuked? Will the mail cost more? You bet. Will that affect every business that sells and communicates via the mail? Absolutely. Will they try to find alternatives in email? They're trying.
– The United We Stand postage stamp released today. Let's hope it's the no-lick variety.
– Do NOT microwave your mail.
– Uncle Bin's Instant Anthrax (picture on Der Spiegel).
– Blair: No Court TV for bin Laden. Rumsfeld: Ditto. Rumsfeld: On the other hand.
– Bild via CBS: Atta got anthrax from Iraq
– Criticism on the homefront: NY Times … Washington Post …